LEJ WINDSURF EQUIPMENT
 Rent windsurf equipment at our surf school in Amager Strandpark and windsurf with the absolute best and latest gear on the market. You can look forward to windsurfing with Severne's award winning sail models including Severne boom, Severne gorilla mast and Severne's revolutionary cyclops extension. We rent surf sails in sizes 4,5-6,5 m2. A 140 litre Severne Fox Freeride windsurf board is included. NOTE: To rent windsurfing equipment from us, you must be able to windsurf safely on your own and know how to rig both surfboard and sail rig safely. If you're not sure about your level, check out our windsurfing courses.
PROFESSIONAL EQUIPMENT
(FOR EXPERIENCED WINDSURFERS)
For you who are an experienced windsurfer and can rig all windsurfing equipment on your own.

3 hours rental of 2023 Severne sailing rig + 140 L Freeride board.

Go windsurfing in Amager Strandpark, whenever you have the time. NOTE: You must rig your own board and sail on arrival and unrig your equipment after your session.
PROFESSIONAL EQUIPMENT
(MEMBERS ONLY)
Exclusive offer for you who are an active part of our Master Class Pro team. Save up to 60% on rentals

3 hours rental of 2023 Severne sailing rig + 140 L Freeride board.

Supplement your weekly workouts with extra sessions when the wind blows. Grab the bone and call your best Master Class Pro surf buddies!
We are here
Copenhagen Surf School Jollevej 8, Amager Strandpark
Windsurfing & Sunset SUP
Do you have any questions? Instructor Chris will help you on your way!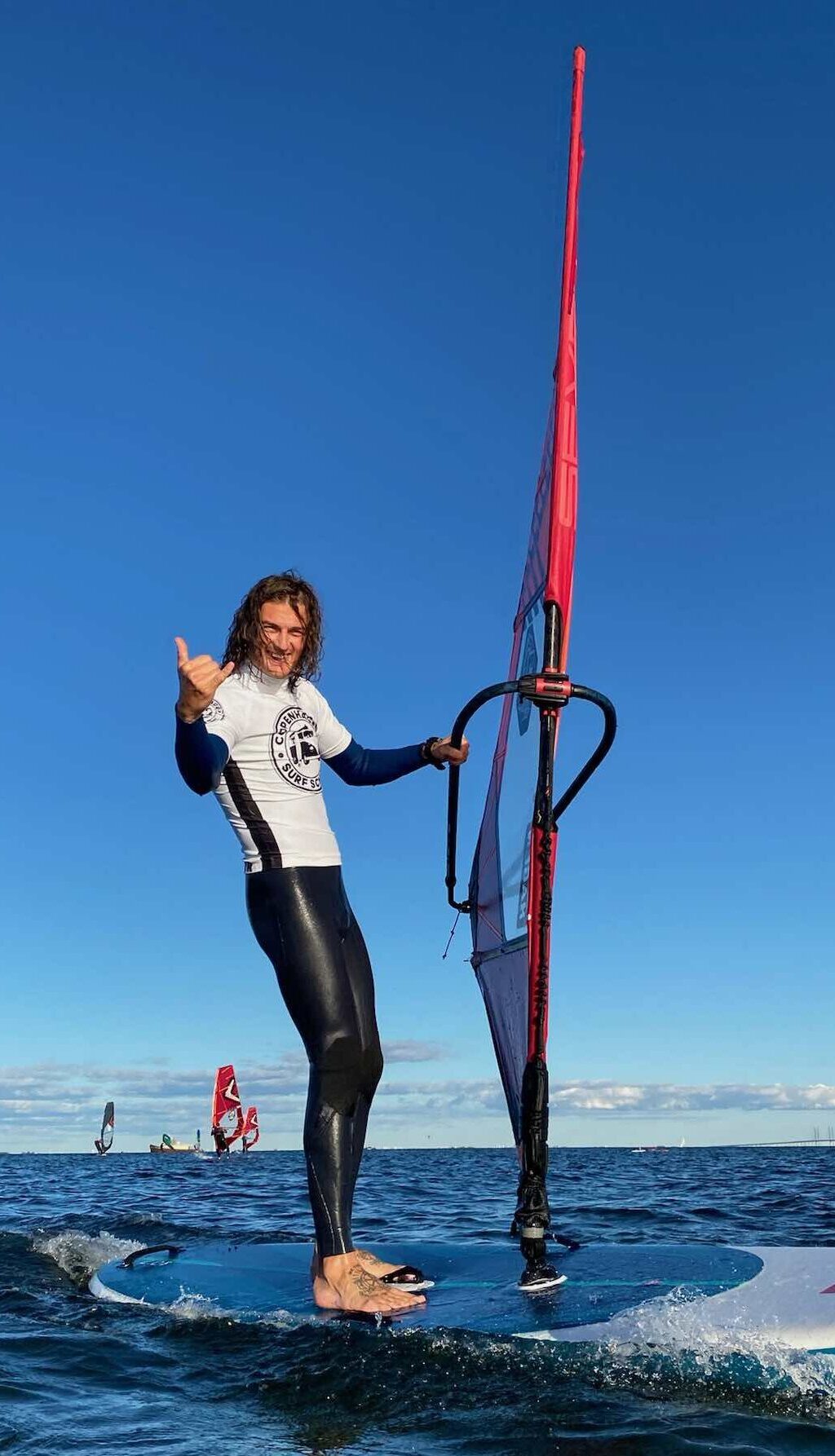 Can I rent windsurfing equipment as a beginner? 
No, if you're a beginner or just getting started, book one of our windsurfing courses. For all rentals of the surf school's windsurfing equipment, you must be a very experienced windsurfer who can handle himself 100% on both land and water. You must also rig and unrig all your rented windsurfing equipment before and after your session in the correct manner, which we instruct on Master Class Pro.
Can you go windsurfing?
Yes, you bet! You can go windsurfing in Amager Strandpark at our Master Class coursewhere we surf, grill and have fun (at least) one day a week. The team runs 9 weeks in a row, and we start new surf teams every season at the end of April and the beginning of August. If you've never tried windsurfing before, start out with our introductory course Here, and look forward to being part of a friendly surf team consisting of 13 surfers and 2 regular instructors.
What type of windsurf equipment is rented at the surf school?
Prepare to rent world-class windsurfing equipment! When you rent windsurfing equipment from us, you will be equipped with a 140 litre Severne Fox Board and a Severne 2023 Sailing Rig. We have different sail sizes ranging from 5.2-7.0, so you can choose the model that suits you and the wind strength of the day. Of course, you also get a warm O'Neill 5/3 mm wetsuit, a Severne Air Harness and a High Hook Vest when you rent your windsurfing equipment. We look forward to seeing you at the surf school!